Bead card set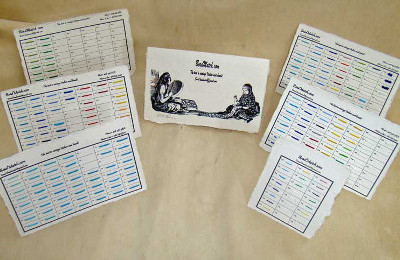 Sample Card Set, 8 Sample Cards in a beautiful fold over cover by artist, Museum Curator, ethnographer and author - Bill Holm
The sample cards are hand sewn on the best quality hand made paper available internationaly. The paper was selected because it comes the closest to the texture and color of vintage brain tanned hide which most of the American Indian beaded objects were made from in pre reservation and early reservation times. The Art work is done by Bill Holm, Professor Emeritus of Art History, and Curator Emeritus of Northwest Coast Indian Art at the Burke Museum. Bill is recognized internationally as one of the most knowledgeable experts in the field of Northwest Coast Native art history as well as being an informed student of Plains, and Plateau Indian arts.
Click here for a Bill Holm Biography, Don't forget to watch the great lecture!
Bill cracked the code for Northwest Coast Indian Art with his seminal work titled "Northwest Coast Indian Art An Analysis of Form" originally published in 1965 it is still in print and as fresh as the day it was published.
Bead Card Set
Set of all eight sample cards in a fold over cover for $80 + shipping. Or purchase each card as indivuals for $10 plus shipping
Order now